ReCrafted
A one-of-a-kind Collection made of recycled shoes.
Presenting ReCrafted, our way of turning pre-worn, returned and faulty Camper shoes into Special Edition shoes.
This initiative was launched to radically restructure the idea of a shoe's lifecycle and as part of our ongoing commitment to be A Little Better, Never Perfect. ReCrafted is where sustainability meets technology and timeless design endures.
Discover the Collection
How It Works
①
Trade in your old Camper shoes at any store participating in this program and get a voucher for up to 30€ off your next purchase.
②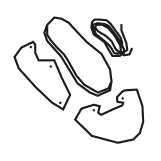 The shoes are collected and sent to our Camper Workshop in Mallorca, where our team of craftsmen and women clean, disinfect and deconstruct them.
③
A new template is made for each shoe and specially-cut pieces of leftover material are sewn to the uppers where needed.
Discover the Collection
The Camper Workshop at our headquarters in Mallorca is where the magic happens.
Here, a team of designers and artisans work together to create new original designs or enhance existing ones by combining the latest technology and materials with the same shoemaking techniques they've been using since 1877.

They inspect, repair and quality-check every new-old pair that leaves the workshop.
By bringing in your old Camper shoes, you're keeping them off the landfill and, at the same time, helping us create a more circular model of doing business. You know that if they could, your shoes would ask for it.