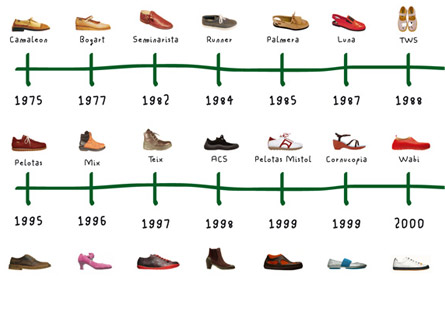 Camper offers a variety of products, the direct result of a commitment to creativity. The shoes are comfortable, casual, useful, functional and versatile. Camper makes shoes for walking, but at the same time, Camper makes shoes for imagining, for innovation and fun, with a clear Mediterranean flavour, as creative and individual as human beings. Camper believes that there are many ways of walking (comfortably) as there are many different people. This is why Camper will never be known as "one "shoe or "one" style.
Camper products can be grouped together by "concepts". Some evolve in a more subtle way than others – Camaleón, Pelotas, TWS, Brothers, Industrial, Wabi. Others change more frequently and more radically, setting trends in the style arena. This diversity illustrated throughout the product range, is Camper's way of realising freedom, of respecting personal identity. Camper shoes are not a rigid idea to which one must adopt to wear them, but rather a wide range in which one can select a shoe that is the most comfortable…the one that makes you feel like you!
Last but by no means least, the other outstanding innate characteristic of Camper shoes is their quality. Only the world's best, natural, water resistant and sturdy leathers can make quality and lightness compatible. Moulds that adapt to the bone structure and natural movements of the foot, together with soles created with exclusive innovative designs that embody our unique way of contact with the earth. Products that make the best craftsmanship compatible with modern methods of manufacture, products made with technology that is respectful and appropriate to the environment. Comfort for our feet and for our conscience. Shoes that care for the physical health of their wearer, as well as stimulating their imagination.