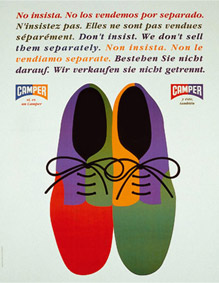 For Camper a designer object is not a frivolous or useless thing. Our society often celebrates "designer objects" that with the ideal of daily use only present, after a short time, an incapacity for serving their primary function. Camper shoes have always been defined by their comfort, their technology, their respect for tradition, their function and their imaginative design.
Design implies identity. Imagination, creativity and ideas do not come from nowhere! We are born and we live in a specific cultural environment. As a consequence, design is clearly influenced by history, culture, circumstance and the landscape that surrounds us.
The Identity of Camper is the Mediterranean. The true crossroads of many cultures depicted by many contradictions and qualities alike, modernity and rural, creativity and austerity, tradition, respect, discretion and simplicity.
Design is an efficient tool for advancing in a global market that is constantly evolving and therefore growing ever more competitive. Design is added value. Design does not solve all a company's problems, but it does contribute to what we could call a cultural and human approach to business. For Camper this award not only endorsed our efforts but it was encouragement, indeed recognition to continue walking through the world with imagination, offering diversity to a diverse public.